About Carrier
Carrier is a leading provider of heating, ventilating, air conditioning and refrigeration systems, building controls and automation, and fire and security systems leading to safer, smarter, sustainable and high-performance buildings.
Download our fact sheet, scroll down for additional information about ongoing projects and visit our Instagram, Twitter, Facebook, LinkedIn and YouTube channels for the latest news.
Center for Intelligent Buildings is a first-of-its-kind technology, innovation and collaboration center showcasing United Technologies products and integrated systems. The building, located in Palm Beach Gardens, Florida, features solutions and interactive displays from our brands, bringing to life all the ways we're building possible around the world.
In 2019, Center for Intelligent Buildings became the first commercial project in Florida to earn Leadership in Energy and Environmental Design (LEED®) Platinum (v4) certification for building design and construction. The platinum rating – the highest designation – was awarded under the stringent version 4 rating system from the U.S. Green Building Council.
Learn more about the facility here.
Press release:

Carrier – Setting the New Gold Standard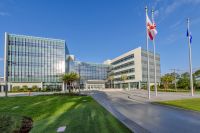 Download a high-resolution picture of Center for Intelligent Buildings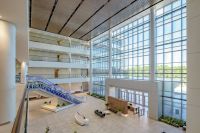 Download a high-resolution picture of the Lobby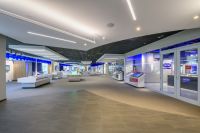 Download a high-resolution picture of the Customer Experience Center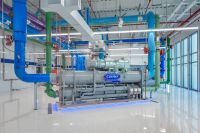 Download a high-resolution picture of the Carrier AquaEdge® 23XRV chiller

Introducing Center for Intelligent Buildings

Press releases
New research from the Harvard T. Chan School of Public Health, called the The COGfx Studies is changing the green building discussion by unveiling its impact on human performance. COGfx Study 1: Indoor Environmental Quality set the methodology, COGfx Study 2: Buildingomics took the research out of the lab, connecting green buildings with occupants' health and productivity. Now, COGfx Study 3: Global Buildings scales the research globally.
Watch the video
Visit TheCOGfxStudy.com to learn more.
Media contact:
Ashley Barrie
561-365-1260
[email protected]
For information about United Technologies Corp, visit www.utc.com/.